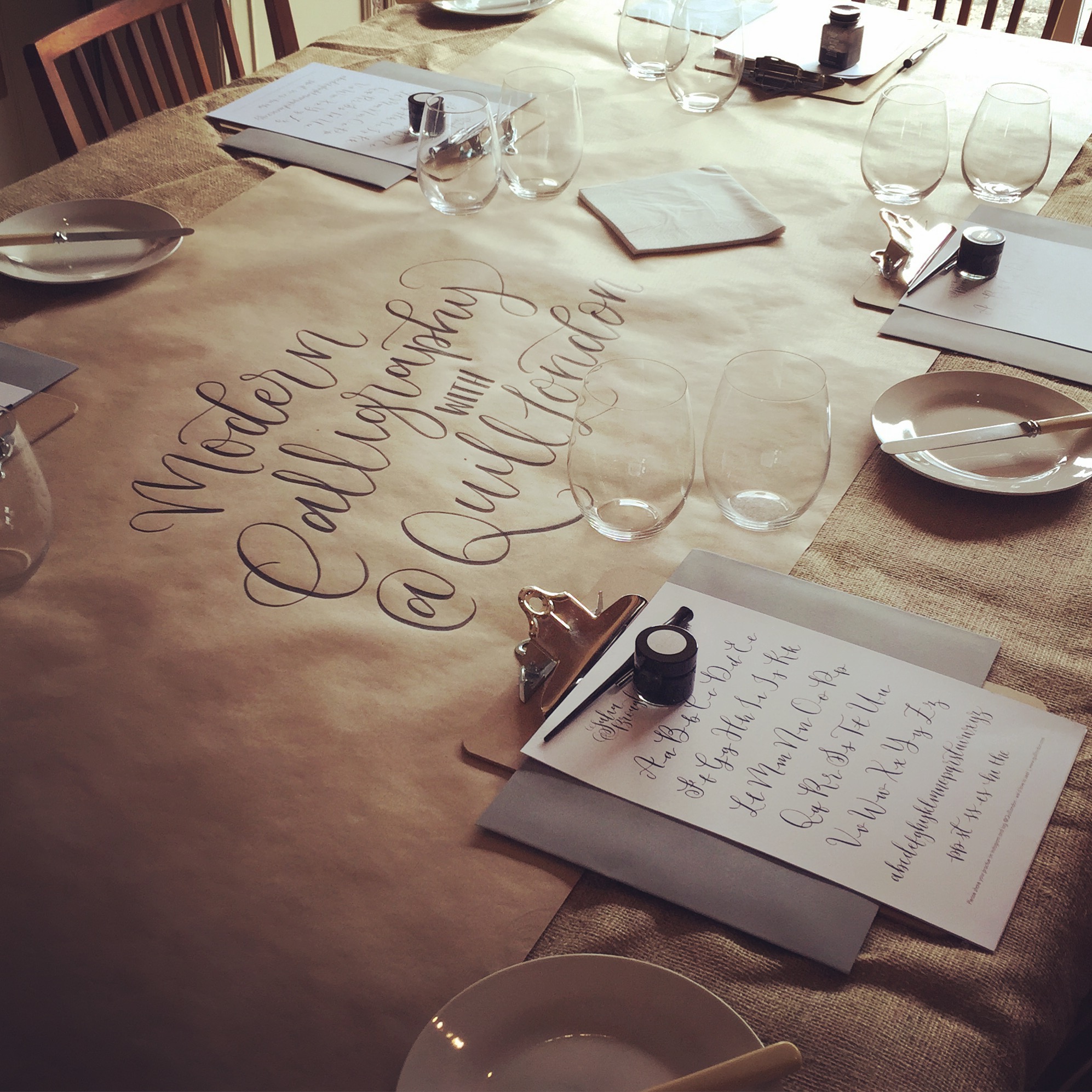 QUILL LONDON - CALLIGRAPHY WORKSHOP - SATURDAY 24TH NOVEMBER 2018 10am -12:30pm & 1:30pm - 4pm
£ 70.00
Only 1 remaining
MODERN CALLIGRAPHY WORKSHOPS
Following a number of fantastic workshops in the barn in QUILL LONDON have kindly agreed to return to the barn. Julia Broughton will be running two workshops on the 24th November.
Morning Session 10am - 12:30pm and the Afternoon Session from 1:30pm - 4pm
In these INTRODUCTION TO MODERN CALLIGRAPHY WORKSHOPS you will learn how to write beautifully using nib and ink, unlock your creativity and explore how to put a modern twist on this classic form of calligraphy in your own unique style. Whether you're an avid stationery fan, a bride-to-be with invitations to scribe, or you simply want to try something new, we'd love you to join us. This beginners class starts right from the beginning and focuses on modern calligraphy techniques.

At the end of the session you'll be well on your way to writing your chosen phrase or quote in your own personal modern calligraphy style. You'll start by working on exercises to practice making shapes and strokes, and then move on to letter forms. By the end of the class you will have started to develop your own style with plenty of time to practice, with one-to-one help when needed. This is the prefect preparation for all those Christmas cards, place names and gift tags, your family and friends will be so impressed!
The class cost includes a kit of calligraphy materials to use in class and take away with you, and refreshments.The cost for each course is £70 per person with a Maximum of 12 participants in each class.
Workshop tickets and vouchers are non-refundable and bookings cannot be changed. This does not affect your statutory rights regarding distance- and online-selling regulations. No refund will be made on failure to attend.

COMMENTS FROM THE LAST WORKSHOP....
"Thank you so much for organising today's course. I absolutely loved it. The 2.5hrs flew by so quickly, it was a really fun Saturday afternoon!
Will definitely be signing up for more events!"
"Just wanted to say we really enjoyed the day at Blaegrove Barn. You have done an amazing job on the conversion and the course was really enjoyable"
"The course was really well planned, prepared and executed and set in your beautiful barn alongside all your wonderful attention to detail and delicious extras made it just perfect. "